Nice to meet you. I am cHask, a blogger and video contributor.
Just to conclude first, Dragon Quest X does not have a Mac version, so if you want to play DQ10 on your Mac, you must prepare a Windows environment.
If Parallels Desktop
, you can install a virtual Windows environment on your Mac, so you can play DQ10 as long as your Mac has sufficient PC specs.
ARM(M1)MacBookAirにParallels desktop突っ込んで仮装Windows11から最高品質にてドラクエ10が動く事が証明された(∩´∀`∩)
フィールドで画面がプチフリーズする問題はFPSを30に絞れば何故か解決した!快適!
#DQ10 pic.twitter.com/ArdKldapKD

— ゆずぴ (@T4kas2) February 14, 2022
Parallels Desktop official website distributes a free trial version, so if you want to see if DQ10 will work on your own Mac, we recommend it.
3 ways to play DQ10 on Mac [M1 support]
There is no Mac version of DQ10, but you can utilize the following method to play Dragon Quest X on your Mac.
Using Dragon Quest X browser version
Introducing Windows with BootCamp
Parallels Desktop to introduce Windows
We will now explain the above methods in detail.
Method 1: Use the Dragon Quest X browser version
Dragon Quest X has a browser version, so you can enjoy DQ10 on your Mac or smartphone if you pay a fee.
ちゃすく
M1 and later Macs are also supported.
Although the browser version of DQ10 is more expensive than the Windows version, the ability to enjoy it on non-Windows devices is a big advantage.
Model Course
Browser
5 character course
Windows
3 character course
Windows
4 character course
Windows
5 character course
Day Use Voucher
3 days: 385 yen
10 days: 715 yen
30 days: 1,650 yen
30 days: 1,000 yen
60 days: 1,950 yen
90 days: 2,900 yen
30 days: 1,300 yen
60 days: 2,550 yen
90 days: 3,800 yen
30 days: 1,500 yen
60 days: 2,950 yen
90 days: 4,400 yen
time usage coupon
1 hour: 110 yen
3 hours: 330 yen
11 hours: 1,100 yen
None
None
None
However, the browser version of DQ10 is always sluggish, perhaps because of the large number of users, and may not be worth the price.
ドラクエ10ブラウザ版のベータやってみたんだけど、重い上に画質が3DSと大差がない。今のままなら操作しづらいし、使わないかな。#ドラクエ10 pic.twitter.com/xOOPebtDVP

— 三好三三(みよしさんぞう) (@SanzouMiyoshi) February 6, 2020
Therefore, if you want to play on a Mac, you should check the operation and image quality with a 1-hour ticket before purchasing a ticket for a number of days.
Method 2: Install Windows with BootCamp
If you have a Mac with an Intel CPU released before 2020, BootCamp will allow you to switch between Mac and Windows at startup.
This allows you to switch your Mac's main operating system to Windows and play Dragon Quest X.
BootCamp is a standard application for Macs with Intel CPUs, and anyone with a Windows license can install Windows on a Mac for free.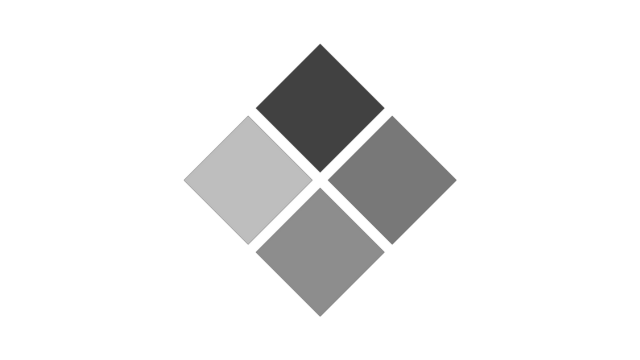 BootCamp features the following and was the typical method of installing Windows until the M1-chip Mac was introduced.
Be able to choose Mac or Windows at startup.
BootCamp is already installed on the Mac from the beginning.
Separate storage for macOS and Windows
Easy to install as long as you have a Windows license
Although not available for M1 or later Macs, it runs Windows directly on the Mac itself, so you can play Windows-only games other than DQ10.
If you start BootCamp, the guide will start automatically, so just prepare your Windows license and you are ready to go.
Method 3: Deploy Windows with Parallels
Mac with M1 chips or later cannot use BootCamp, but Parallels Desktop
can use virtual Windows on the Mac itself to play Dragon Quest X.
Macbook Air M2にParallels desktopを入れて、Steamでドラクエとストリートファイター試したら全く問題なく動作して凄いわ。
これは普通のWindows PCよりも性能高いかも。#MacbookAir#Steam pic.twitter.com/g6Gkc3BsOY

— 富士 (@4AFdU4pP6J4GDkc) December 25, 2022
To begin with, Parallels Desktop
is software that can run Windows, Linux, etc. on a Mac, and has the following features.
Mac processing speed does not slow down much and runs light
Copy and paste or drag and drop between Mac and Windows
Easier to use Windows than Boot Camp
Compatible with Macs with M1 chip or later (Boot Camp is not supported)
Currently, this is the only way to run virtual Windows on a Mac after M1, so it is essential software if you want to play the Windows version of DQ10 on your Mac.
The pricing plans for Parallels Desktop
are shown in the table below, and the Trial version also confirms that the game is up and running.
Plan Name
Trial
Standard
Pro
Business
Price
free
Perpetual license: $99.99
Subscription: $79.99
$99.99/year
$99.99/year
License
14 days
Perpetual license or 1 year
1 year
1 year
update
No update
No update
Update support
Update support
upplement
Free Plans
Normal Plan
Phone support available
Corporate Plans
A free trial is available at the official Parallels Desktop website, so if you want to play DQ10 on a M1 or later Mac, I recommend it.
How to install Parallels[Dragon Quest X]
Parallels Desktop
, you can easily play DQ10 for Windows on M1 or later Macs, and we will explain the detailed installation process.
How to install Parallels 1: Access the official website
Go to the official Parallels website and click on " Products" and click on "Parallels Desktop for Mac".
Click "Try Now" when the latest version of Parallels appears.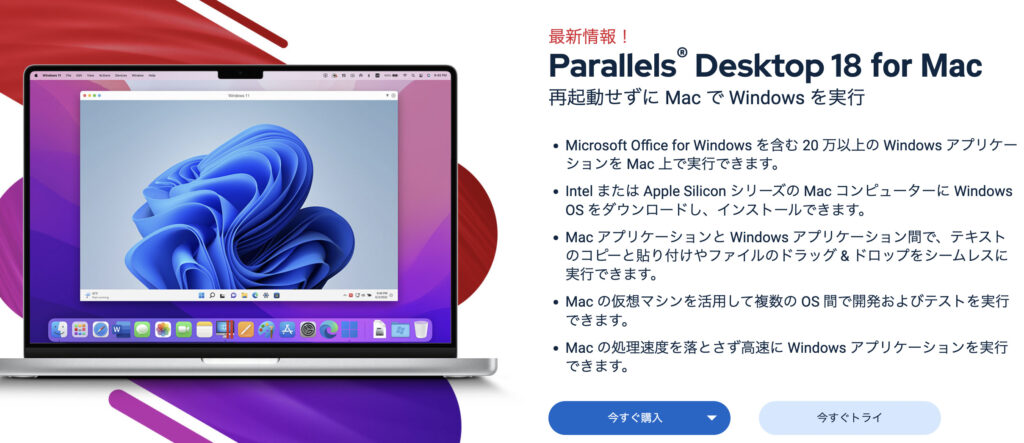 You will then be taken to a page where you can download a free trial, click on "Download Free Trial".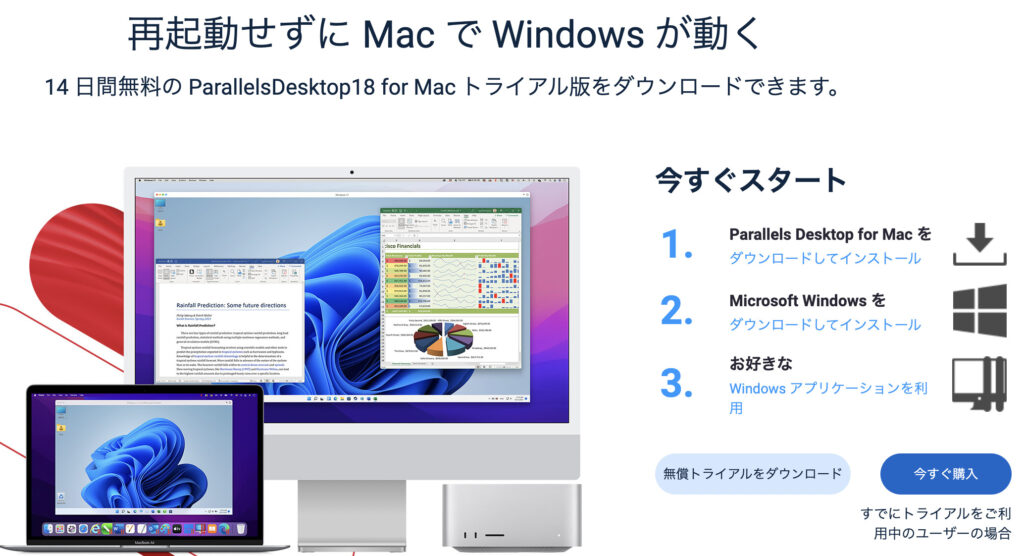 The free trial will begin downloading, click "Save" and wait for it to complete.
How to install Parallels 2: Install Parallels
Once Parallels has been downloaded, click on the downloaded file to launch the installer.
Please wait for a while because Parallels will be automatically installed on your Mac once you start the installer.
How to install Parallels 3: Download Windows
Once the Parallels Desktop
installation is complete, download Windows.
If you are using a Mac with an M1 chip or later, click "Continue" when the image below appears and follow the on-screen instructions to download and install Windows.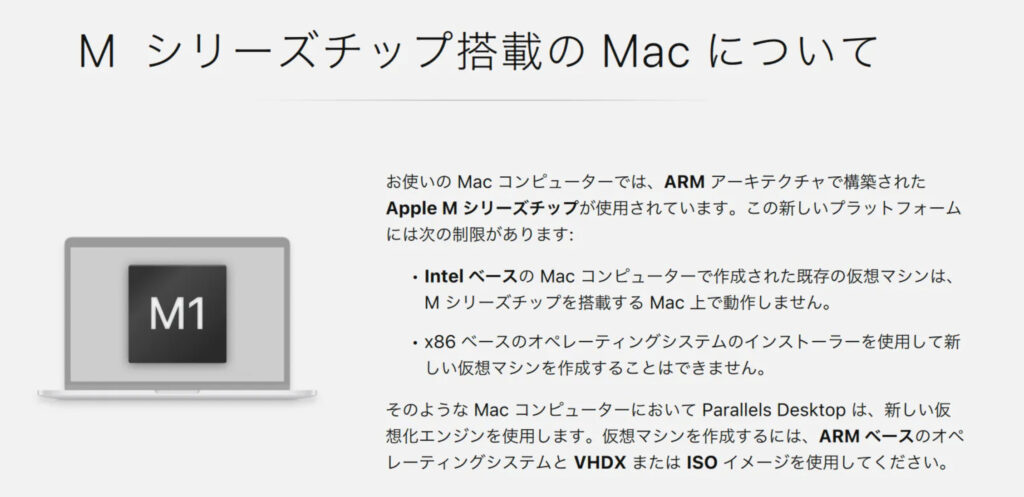 After proceeding for a while, the download & installation of Windows will be completed and you will be able to use Windows on your Mac.
This completes the Parallels Desktop
installation, so all that remains is to install Dragon Quest X on virtual Windows.